5 Days Tour from Kathmandu to Mustang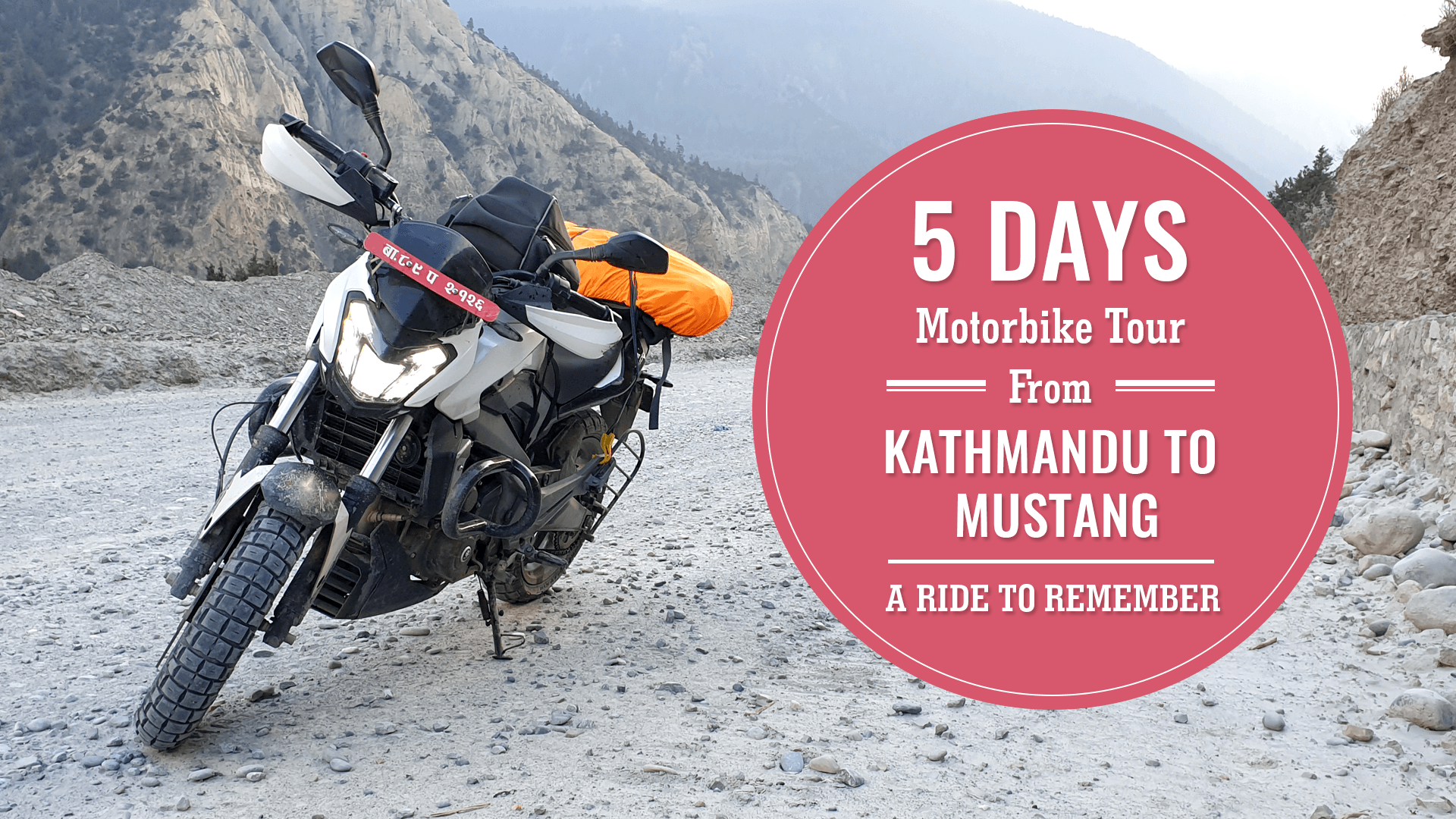 Images from this tour are at the bottom of this article.
Adventure is what Catch Wheels team has always served on the table for our visitors. And Mustang tour on motorbikes with your teammates is a great way to experience thrill and adventure. So, as the season started for Mustang trips, we, the Catch Wheels team decided to visit the area and observe its beauty.
Mustang (Lower) is nearly 373 km away from the valley and the place is famous for its thrilling roads. It is one of the highest elevation deserts of Nepal and offers you the most thrilling experience of your life with world famous places like Jomsom, Kagbeni, high-speed rivers, Shrines, Gumbas, Muktinath Temple, Dhumba Lake, and more. Mustang also provides an opportunity to experience a Tibetan culture. So, visiting a place that is so rich in culture, it sure was a great experience for all of us.
This was the second time we were heading towards Mustang. The first one was with the amazing Theme Palace team. You can read more about the trip here. This time, there were four riders from Catch Wheels team—Sakin Shrestha, Ashish Rai, Tikaram Bhandari, and Pratik Lal Shrestha—all ready for our five-day trip.
Day One – Kathmandu to Tatopani
We started our journey on the 19th of November 2018 at around 6:30 in the morning. For day one, we estimated to ride till Tatopani and stay the night there. We had our breakfast at Hamlet Restaurant in Dhading. We stopped at Bajeko Sekuwa in Pokhara for our lunch and continued our journey.
The roads till Pokhara was great, however, from Pokhara to Tatopani, the roads were a mixture of both smooth and rough road. We reached Beni and had a short snack break. We continued from Beni after that and decided to stop at Tatopani. The roads from Beni to Tatopani (22 km) were completely off-roads and full of excitement, thrill, and adventure. However, due to road construction work, we were stopped for a while. Only 13 km was left till we reached Tatopani; then, we continued after a little while. The roads were all off-roads, the visibility was low and there were uncountable streams and rivers. We then reached Tatopani through all those thrills and adventure, all safe and sound. We stayed at Mount Annapurna Resort in Tatopani for the night.
Day Two – Tatopani to Jomsom
The second day, we aimed Jomsom as our destination for the day. We also took some drone shots that very morning. Then, we left for Jomsom from Tatopani at around 9:30 in the morning. On our way, we stopped at Rupse Falls, one of the beautiful waterfalls in the country.
To relive and experience our journey from Kathmandu to Rupse Falls here is the first part of our Motovlog. Enjoy Watching!
While heading towards Jomsom, we could observe the beautiful scenery literally everywhere. Mountains, Waterfalls, the surrounding, everything was so mesmerizing and beautiful, except for the roads, obviously! We continued our journey through those off-roads. Riding through the narrow alleys of Marpha, observing the view, waterfalls, and suspension bridges, we all reached Jomsom in the evening. We stayed at Hotel Mountain Breeze in Jomsom.
Day Three – Jomsom to Muktinath, Short Trip to Kagbeni and back to Jomsom
Day 3 of our journey; we got ready to observe the beautiful, most talked-about holy temple in Muktinath. We also aimed at visiting Dhumba Lake and Kagbeni area that day. With the destinations all set in our mind, we left our hotel in Jomsom at around 8 in the morning. Enjoying the intense view of mountains, we were on extreme offroad of Mustang, heading towards old Kagbeni.
We reached Kagbeni and had a short tea-break there. Then, we continued our journey to Muktinath temple; the fresh-track that leads to Muktinath area was amazing. However, it sure is dangerous too as riders can be seen speeding up in this track. After all those off-roading, who doesn't get excited about the black-topped asphalt covered road, right? But still, if you're thinking about heading towards Muktinath, be very careful and ride within the speed limit. We then visited the sacred Muktinath temple and had some great memories there. After that, we also went to Dholamebar Gompa, one of the best places in Muktinath area. We had delicious snacks at Hotel Bob Marley in Muktinath. While coming back to Jomsom, we had a short visit to the beautiful Kagbeni village as well.
Day Four – Jomsom to Tatopani (Visited Dhumba Lake and Marpha)
On day four, we had our breakfast and left for Tatopani. We had decided to visit Dhumba Lake and Marpha too, so as decided, we went to Dhumba Lake first. The lake view was mesmerizing with its calm and peaceful environment. After spending some time there, we headed towards Marpha, one of the most talked-about places while visiting Mustang.  The roads till Marpha were completely off-road. So, with the off-roads, suspensions bridges and an amazing view of nature, we reached Marpha. Riding through the narrow alleys of Marpha and the view from the monastery was just amazing.
After stopping and visiting both of the places, we then reached Tatopani at evening and stayed the night there.
Day Five: Tatopani to Pokhara
The last day of our Mustang tour, the fifth day, we got ready to leave for Pokhara from Tatopani. We had to attend an event at Pokhara—WordCamp Pokhara 2018 the next day. Therefore, we tried to reach Pokhara as soon as possible and get some rest for the next day. We reached Pokhara at around 3 in the noon and joined the rest of our team in Pokhara.
So, all in all, our motorbike trip to Mustang was full of adventure, excitement, and thrill. The off-roading was difficult and challenging, however, it was what made the journey more exciting and electrifying. We were leaving with so many unforgettable beautiful memories of Mustang. The culture, people, roads, everything was just so fascinating about Mustang.
The second part of our Motovlog covers memories from the rest of our journey. Check out the video below:
If you're also visiting Mustang, we want to suggest a few things—schedule your visit sometime in February-June or September-December, clothing preparation, carry essential stuff only, grip your bag tight if you're carrying a duffel bag, always check the weather before setting destinations for the day,  knee and hand guards. These were only a few essential things you need to be careful about. The climate is ever-changing in Mustang, so make sure you are all prepared for your journey.
Finally, here are some of the memories from this tour.
This slideshow requires JavaScript.
You can subscribe to our YouTube Channel, like us on Facebook and follow us on Instagram to see more from us.
Happy Riding!!
Route: Kathmandu – Pokhara – Tatopani – Marpha – Jomsom – Kagbeni – Muktinath
Riders on this journey with their respective motorbikes and gadgets:
Sakin Shrestha | Bajaj Dominar 400 | GoPro 7 | GoPro 360 | DJI Spark Drone | Canon M50 https://www.youtube.com/sakinshrestha
Tikaram Bhandari | Tour Manager | TVS Apache RTR 200 https://www.facebook.com/admin8848
Pratik Lal Shrestha | Runner | Bajaj Pulsar NS 200 https://www.facebook.com/Pratik911
Ashish Rai | Pulsar NS 160 | GoPro 4 https://www.facebook.com/ananta.nirakar